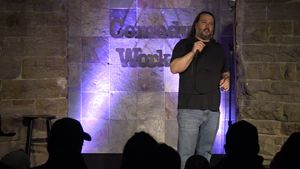 There's nobody getting your back in standup, like if you're failing, you are failing, and I know what it feels like because I have bombed hard many times at open mics...
Adam Edwards is originally from the Dayton area, and spent many years playing bass in Dayton bands. These days, he lives in Colorado. Our conversation contains a great deal of nostalgia and fond recollections of musicians and bands from Dayton's past. Adam also tells us about jumping into the art of stand up comedy.
Here are some highlights of our conversation:
Adam's origin story  (1:08)
What playing bass in Shrug as a three piece band was like (8:02)
We talk about Flyaway Minion (30:32)
Adam tells us about playing at Red Rocks (41:00)
Adam's new artistic outlet is standup comedy (57:27)
The songs that are included from bands that Adam has spent time in are as follows:
"Undone" by Shrug from Straight To Beta.
"Salutations from the Gutter" by Front Row For The Meltdown from All the Wrong Things.
"Opposable Thumbs" by Flyaway Minion from Evil Press.
 
LINKS
Adam Edwards Music & Comedy YouTube Channel