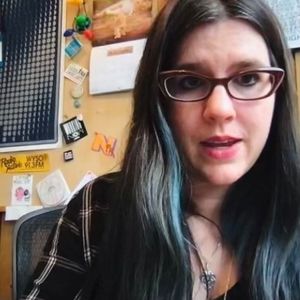 "I'd like to talk about our favorite albums of the year"
I listened to dozens of albums in 2021.  Juliet is the reason I discovered some of them.  I already wrote about my favorite albums of 2021 over on my blog, but I really wanted to have a nerdy conversation about them with Juliet.  I also wanted to hear her thoughts on her favorite music from this year.
Please note that I wasn't expecting to release a podcast episode today.  That said, this conversation about albums that came out in 2021 won't sound nearly as fresh if I release this episode in February or March, so you get a bonus episode of this new podcast before Episode 1 even drops.  I'll call this Episode ½.
I didn't edit this one.  If you're wondering whether I find it annoying to listen to my poor habit of sharply intaking my breath before speaking, or the occasional clearing my throat (even though I did it away from the microphone), well, I do indeed find it annoying.  Juliet doesn't say "um" very often, so you won't suffer too much from listening to her.  This is about as raw a conversation as you're going to get on my podcast because I'll normally edit the episodes.
Here are relevant links for you from our conversation.
Juliet Fromholt is the MD at WYSO
Juliet's top ten albums of 2021
10. Arlo Parks - Collapsed in Sunbeams
  9. Indigo de Souza - Any Shape You Take
  8. Xenia Rubinos - Una Rosa
  7. Yola - Stand For Myself
  6. Helado Negro - Far In
  5. Paige Beller - I'll Be Better
  4. Pom Pom Squad - Death of a Cheerleader
  3. Safe Money - Safe Money
  2. Lung - Come Clean Right Now
  1. Japanese Breakfast - Jubilee
Other Links
Jerry Cantrell's "Nobody Breaks You"
Original video for "Popular"
Pom Pom Squad video for "Popular"
Safe Money's video for "Mimosas"

Attack of the Final Girls