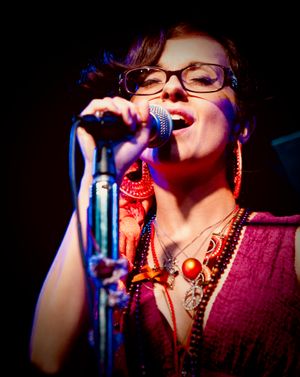 J'ai pas choisi en fait. Je dirais que c'est plutôt la musique qui m'a choisie moi...
because it's what's in my heart, it's what I love...
Becca is French, originally from Nantes. She has lived in the United States for a little over twelve years now. You'll see right away that she has a deep passion for music that comes spilling out of her. Becca radiates joy and enthusiasm. Since I happen to speak French, we meander between French and English during our chat. In fact we talked for over three hours, although only one third of that made it into this episode. I thank her for putting up with my accent. Why did I call her the opposite of Josephine Baker? Who does she think is the best French musician of the 20th century? Why did she choose to specialize in making Black music? Do we really need saxophone solos? 
Becca est française, d'origine nantaise. Elle habite aux Etats-Unis depuis un peu plus de douze ans. Vous allez découvrir tout de suite qu'elle a une passion profonde pour la musique. Becca est remplie de joie et d'enthousiasme. Puisque je me débrouille en français, nous avons bavardé en Français et en Anglais. En fait, nous avons parlé pendant trois heures, dont j'ai enregistré seulement une heure. Je suis reconnaissant envers Becca d'avoir supporté mon accent. Pourquoi est-ce que j'ai dit qu'elle est "l'envers de Josephine Baker" ? Selon Becca, qui est le meilleur musicien français du vingtième siècle ? Pourquoi est-ce qu'elle a choisi de se spécialiser en musique Noire ? Est-ce qu'on a vraiment besoin des solos de saxophone ?
Here are some highlights of our conversation, language tagged for your convenience:
Where is Becca from?  D'oú vient-elle?   (1:00, French/Français)
What is her origin story? C'est quoi son ses origines? (8:29, French/Français)
The part when she prepares to immigrate.  Quand elle prépare à déménager. (21:53, English/Anglais)
How does she feel about Los Angeles? Est-ce qu'elle aime habiter à Los Angeles? (24:25, English/Anglais)
Why does she perform Black music? Pourquoi est-ce qu'elle joue la musique Noire? (30:46, French/Français)
What was her first CD? Qu'est-ce que c'étais son premier CD?  (32:00, English/Anglais)
On producing her own music. Elle parle d'être productrice. (41:16, English/Anglais)
We talk about her upcoming album. On parle au sujet de son album à venir.  (59:10, English/Anglais)
Here are some useful links / Voici quelques liens utiles