It's been awhile since I've done one of the Ohio Spotlight entries.  I attempted to draw a logo for it using my tablet and the drawing pen that came with it.  As you can see clearly here, this is not a skill set that I possess.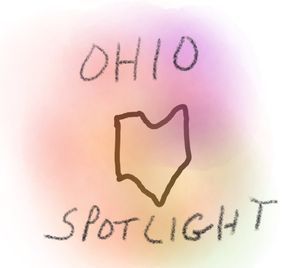 You know something that I can do? I can identify when a band is funky.  You know who's funky?  Lakeside.
Lakeside is from right here in Dayton, Ohio.  They were one of several well-known funk bands from The Gem City around forty years ago.  I've only listened to three of their albums - Shot of Love, Rough Riders, and Fantastic Voyage - but I'll surely catch up with the rest of them. These songs make you want to, as they say, get on up and jam.  The groove is infectious, which is, of course, a characteristic of funk bands.
Here's their most well-known song:
Yeah, this still holds up.  This specific song, along with many other Lakeside songs, have been often sampled by hip hop and rap artists over the last thirty years.  It's good music, and since I'm currently taking inspiration for bass lines from their songs, this music is timeless.