Welcome to the first installment of a new series over here on my blog.  It's called Dad's Album of the Week, to be commonly abbreviated as DAOTW.  My dad died a couple of years ago, and I am now in possession of a bunch of his vinyl.  I haven't listened to most of it.  Telling myself to write about the music will be an incentive to listen to all of it.  (Well, I won't listen to any of the Chicago albums.  See, that was his favorite band, and I heard them all way too many times growing up.)  This series will run on Thursdays, and will generally be brief.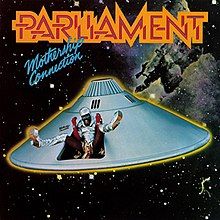 Parliament - Mothership Connection
Even those who have never heard this album have absolutely heard this album, if they have listened to rap or hip hop over the last 30 years.  The music here is often sampled, and the vocabulary here is often imitated.  (Might "gangster lean" and "the bomb" have originated from this album?)
What we have here is legendary music from a legendary crew (including fellow Ohioan Bootsy Collins), and music that will make you move, all the way from 1975.
Sing it with me now: we need the funk, we gotta have that funk