We have a neighborhood event in Dayton called Porchfest. This event has a simple premise. Many homeowners in a pedestrian-friendly neighborhood offer their front porch (or their back yard) as a venue where an artist can perform. The performances are staggered by location and scheduled in order to avoid too much sound overlapping. This event is free to attend, and it's something I look forward to... walking around listening to live music for a few hours is exactly my idea of a good time.
This summer, I was invited to play Porchfest for the first time.  I was very much looking forward to participating in an event that I enjoy attending as well, and I convinced Ray Owens, Brandon Berry, and Jeremy Raucci to spend time learning my songs so that I could give a full band performance.  (Thanks, gentlemen!)  I was scheduled to play at 5:00 PM.  Porchfest started with a drum corps in the 1 o'clock hour, then the first slot for the artists throughout the neighborhood was to be at 2:00 PM.
One of the bands I enjoy ran into a problem.  They are called Sadbox.  Wait, the name of the band isn't the problem, stay with me here. Their bass player had been possibly exposed to COVID-19, and as a responsible citizen and fine upstanding member of society, was self-quarantining.  This meant he was not able to play Porchfest, and the folks in Sadbox found this out the night before the show.  I found this out the morning of the show, shortly before noon, as I was borrowing their drummer, Ray, for my set as well. Guess what instrument I play?  Yep, bass.  I immediately offered my services.  Sadbox accepted. Great!  But there's a challenge here...
You see, dear reader, I enjoy listening to Sadbox songs, and know many of them fairly well, but there is a difference between knowing a song from listening to it and knowing it well enough to actually play it in front of people.  I had less than two hours to mentally prepare for the show... oh, and I also had to deal with preparations for my own set later in the day.  Once my offer to fill in on bass was accepted, I immediately started listening to both Sadbox albums again, working my way through the songs, specifically listening for the bass parts, and trying to internalize the music.
I went to the designated porch, and participated in the age-old ritual of setting up gear prior to a show.  Then, the ebullient and gregarious lead singer and songwriter of Sadbox, Paul, gave me a 20 minute crash course on how to play the songs on the setlist.  This is what my notes look like: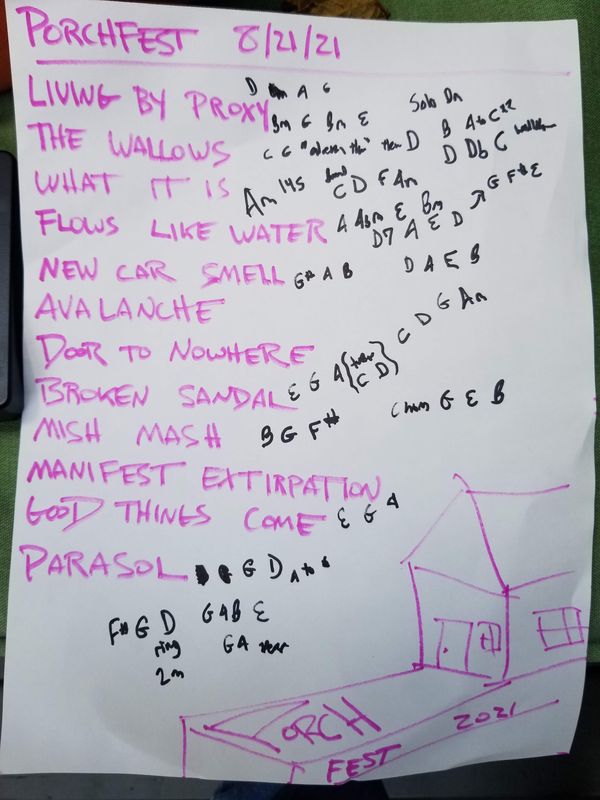 I didn't draw that cool thing at the bottom of the setlist, Paul did.  My handwriting is the stuff in black.  I took a selfie as we were setting up in order to memorialize this occasion.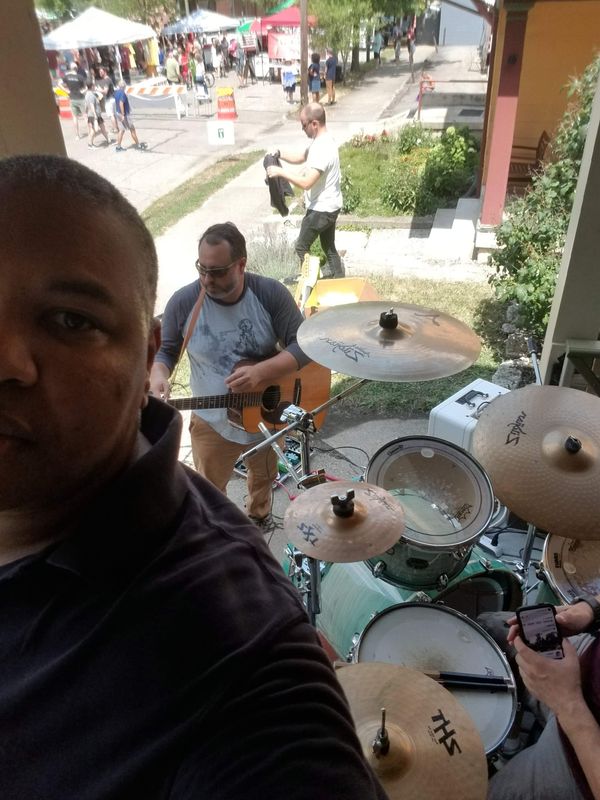 Time sure flies when you're getting ready to jump in and play rock & roll songs that you've never played before live and in public.  Before we knew it, Porchfest was under way.  You know what?  It was great.  I made my share of mistakes to be sure, but I didn't feel much pressure because, well, I think Sadbox were kind enough to keep their expectations low. I was able to relax and enjoy making music with friendly people in front of a good-sized crowd of other friendly people.  I repeat, it was great!  Making music feels good.  Doing a favor for someone feels good.  I had the privilege to combine the two on this hot Saturday afternoon. In fact, I enjoyed playing with Sadbox more than playing my own songs during my own scheduled set.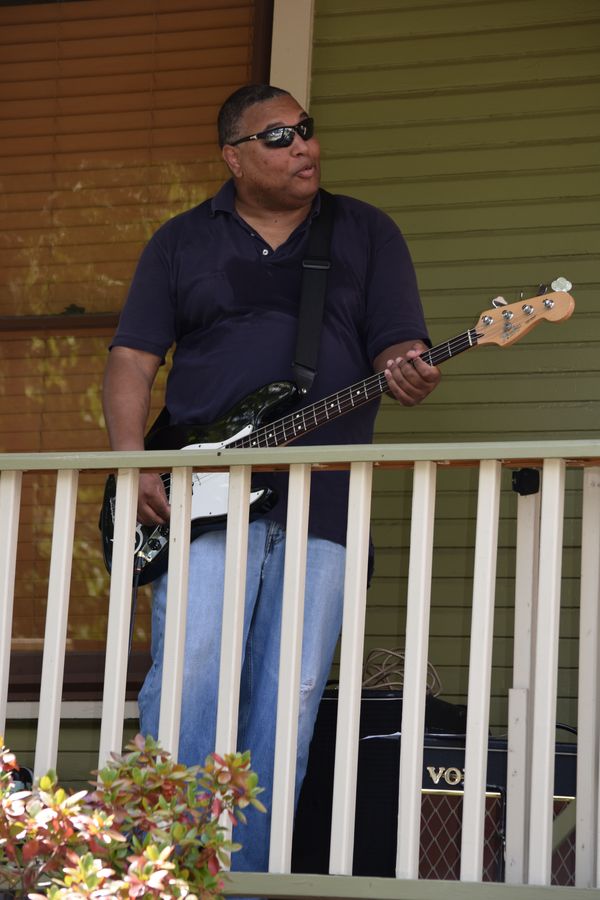 Photo by Art Jipson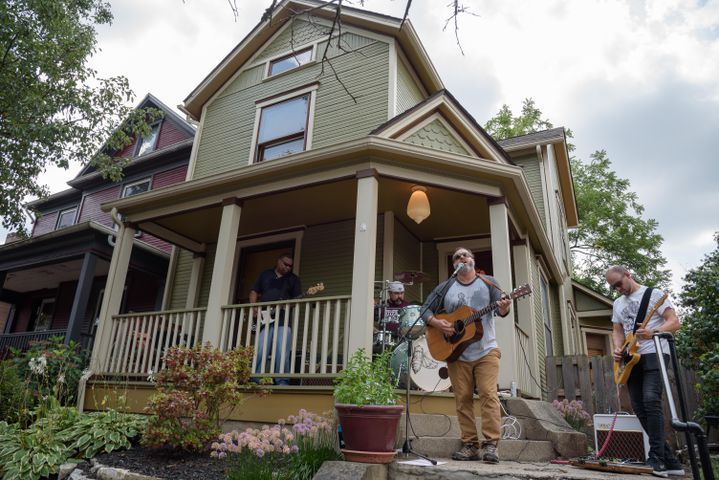 Photo by Tom Gilliam
Behold! Three-fourths of the mighty Sadbox, with yours truly on the porch tagging along!  This is a moment that I'll remember for a long, long time.