Welcome to Concert Memories May!  All of my Monday blog entries this month will be about memorable concerts.
Oh look, what do we have here?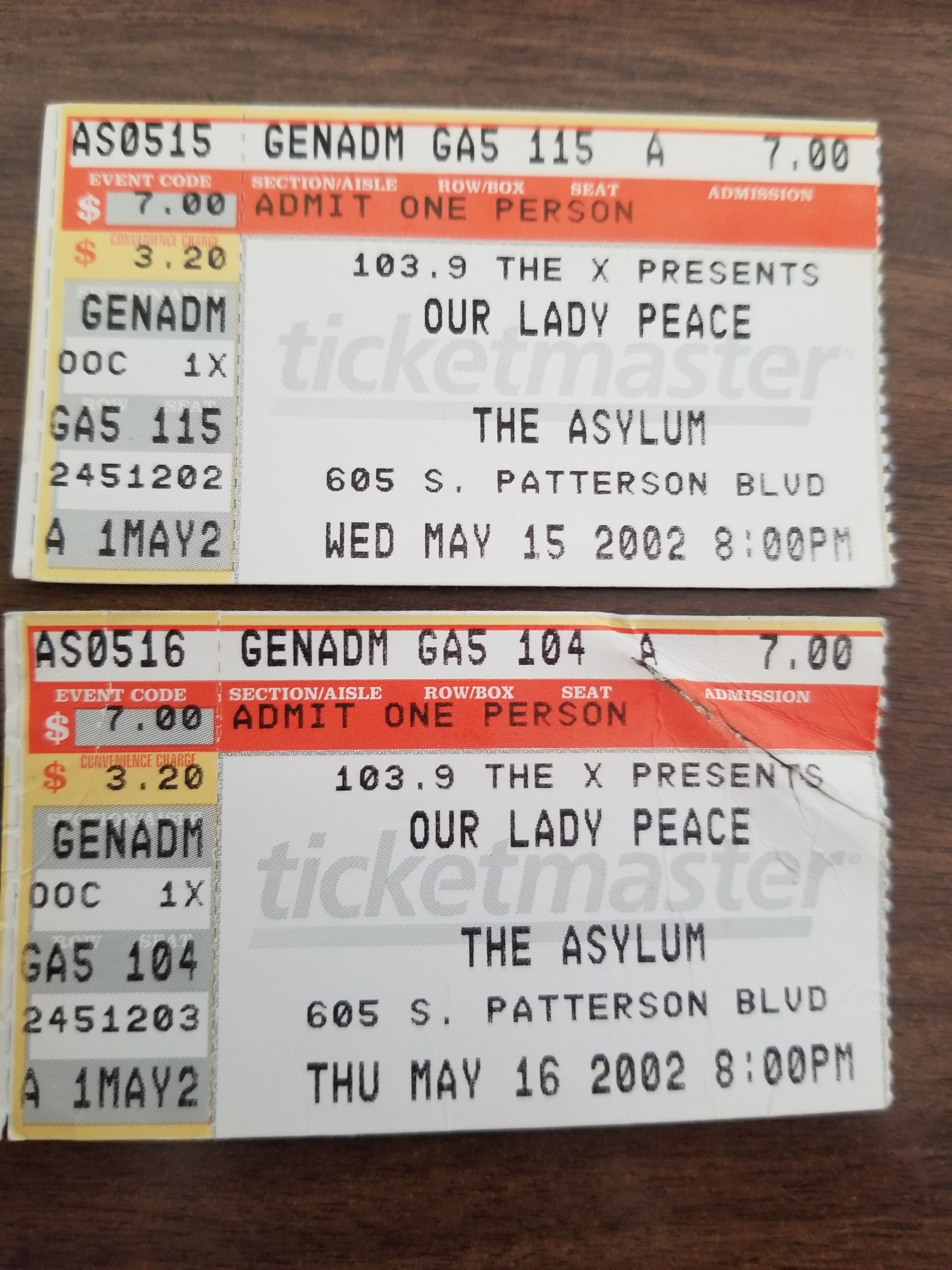 That's right, a superstar Canadian band, who were accustomed to playing arenas and stadiums in their home country, played back-to-back nights at a dance club in Dayton, Ohio for SEVEN DOLLARS each night.  How in the world did that happen?  
These shows happened just after a creative crossroads with the band.  Guitarist Mike Turner had left the band, and there was an open audition process for the job.  Once the position was filled, the band finished up Gravity, which was their fifth album.  When a superstar band releases a new album, they generally go on tour to support it... at least, this is how things used to work.  Of course, they would probably have to play the singles and crowd favorites from their earlier work, and gel properly with the new team member in front of an audience.  If you were part of a superstar Canadian band, and you wanted to put in some work in front of a live audience whilst remaining somewhat off the radar, where would you play the show?  Our Lady Peace chose to play in Dayton, Ohio.  These two shows were the first shows that new guitarist Steve Mazur would play with them.
I remember being a massive fan of this band since their first album Naveed came out while I was in high school.  They didn't get to popularity in the United States until their second album Clumsy showed up in 1997 with hit singles "Superman's Dead", "Clumsy", and "4am".  Their third and fourth albums weren't remotely as popular here if memory serves, but strangely enough, I liked them both even better.  I am pretty sure that several of my friends agree with me on this... and we jumped at the chance to catch an act like this in a small venue in our home state.
I fondly remember waiting in line outside for the doors to open, and hearing the soundcheck happening inside the venue.  This surely doubled as extra rehearsal, as one of the songs we could hear was "The Story of 100 Aisles", and they didn't play that one during either night's show.  I also remember having a nice conversation with some folks who drove all the way from Toronto to catch both shows.
The shows themselves featured plenty of songs from Gravity, which hadn't been released yet.  The lead single had hit radio and MTV, so that one was familiar.  Our Lady Peace were definitely working out the kinds for their upcoming tour.  It was interesting to see professionals like these gentleman have some bumps and stumbles along the way during the two shows, it made them seem more human.  (The younger version of me who went to these shows was even more inept at playing his instrument than the current version of me, and was easily awed by rock stars.)  We could tell they were shaking off a bit of rust at times. Raine completely forgot the words to the verses in "One Man Army", but it was ok, because the audience gleefully sang them. They made sure to "play the hits", and a coupe of other favorites from their older albums, making for consecutive excellent nights of rock and roll.
One last thing that I'll add, on brand for me as a bass player.  I always quite enjoyed Duncan Coutts' work, but I found his live performance extra inspiring.