You might remember that Burst, the debut album from Columbus, Ohio's Snarls, was one of my favorite albums of 2020.  Let me give you just a little background on how I discovered this band.
Snarls opened for Sleater-Kinney in fall 2019 at Newport Music Hall on High Street.  Since the Southgate House down in Kentucky is no more, the Newport is my favorite concert venue.  It's exactly the kind of place that I would love to play, and I've seen plenty of outstanding shows there.  Sadly, there are plenty of people that don't pay attention to the opening act at rock shows, or don't even bother to arrive early enough to see them.  That's not me, I'll gladly take all of the rock you'll give me at a concert, thank you very much.  Snarls did not disappoint.  They did seem a little nervous, but I think playing a legendary venue in one's hometown for the first time is a reasonable thing to get nervous about.  The songs were good, the performance was good, and everyone in the band looked like they were enjoying themselves.
After the show, Misty and I headed to talk to the band and buy an album, but they didn't have one out yet.  We got to meet three of the four band members.  (We met everyone but Max, and I'd like to assure everyone that we are not biased against drummers.)  So, I've been going to shows at this venue since before some of these kids were born.  Misty and I are totally old enough to be their parents.  Suffice it to say that we are neither cool nor interesting, so Chlo & Mick & Riley (alphabetically) didn't have any reason to be nice to us, but they were.  Yeah, I'm not cool, but I am a musician, and they put up with me asking a couple of nerdy musician-type questions.  They're lovely individuals... so consider it a bonus that they also made a solid record.
Usually, when bands do press, the lead singer and/or lead guitarist end up doing most of the interviews.  For Snarls, that's Chlo and Mick.  They are the most visible part of the band, while the rhythm section labors in relative obscurity to drive the bus.  I mean no slight to the guitar players in this band (Mick actually did the artwork for my singles "Anecdote" and "Promise"), but I like to show special love to bass players.
After the picture, I amplify the voice of Riley Hall, who plays bass and sings in Snarls.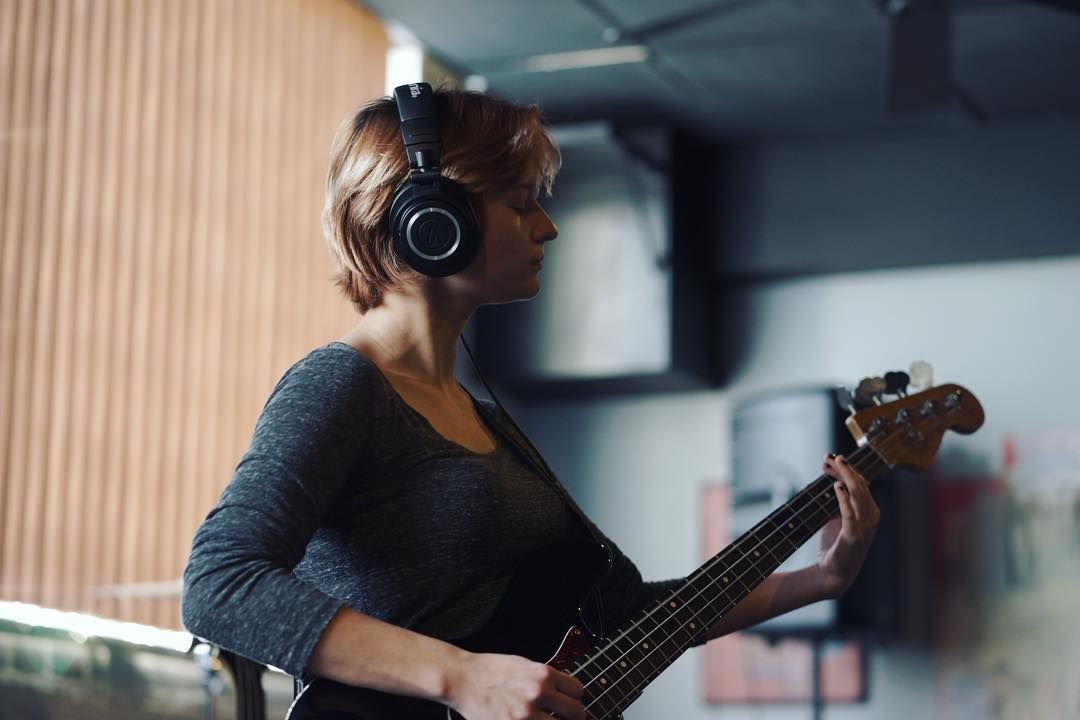 1.  Let's hear the elevator pitch for your skill set and genre. 
I don't know if I have any technical musical skills but I guess my skills include creating music that is true to my heart. That happens to be alternative emo rock.
2.  When did you start playing music?  Why did you decide to play bass?  Do you play any other instruments? 
So the first time I picked up an acoustic guitar was when I was 10 years old and taught myself through grade school more as a hobby. I learned through YouTube tutorials of Taylor Swift songs (haha a simpler time). I picked up bass for a class in high school called band lab. The students formed bands and wrote songs the whole year. The band I was in was actually with Chlo and a different classmate from then named Austin. That was me and Chlo's first live band experience and it was kind of spur of the moment that I decided to play bass. It's funny actually I had never even touched a bass before but it came quite naturally since I had played guitar for about 6 years already. There was a time where I took piano lessons but that was only for about a year when I was 16 and I haven't practiced since.
3.  What was the first album you can remember buying with your own money? 
I'm not sure if this is considered my own money, but I did buy Taylor Swift's album Fearless on iTunes with a Christmas gift card when I was like 11.
4.  Tell me about the last concert you saw. 
I went and saw CAAMP with my mom at legend valley back in October. It was a drive in concert so it was nice to have the luxury of live music while also being COVID conscious. A little breath of fresh air in this day and age.
5.  What artists do you consider to be your biggest influences?  A brief follow-up, making this a 2 for 1:  Which bass players do you consider to be influences? 
I love this question. There's so many artists that I have admired over the years but there is a handful that stick out. John Mayer for one. I was 14 when I started diving into his music and really becoming inspired by him to expand my guitar skills. This is when I started learning his cool plucking and strumming technique like in "Stop This Train" and his cover of Tom Petty's "Free Falling". I definitely immersed myself in my acoustic guitar and as I learned more I started to recognize and acknowledge my growth as a musician for the first time. It really started to click in my head that maybe I should be chasing my dreams, or rather that they weren't just "dreams". I can't say that I have ever payed attention to bass players specifically since I didn't start playing until I was 16. Even still I have never viewed music like that. Looking for the best guitarist, drummer, bassist etc. I look for music that makes me feel. Music that reminds me that other people feel too.
6.  The pandemic did not treat you all kindly.  You had a tour cancelled right out from under you, and while I know you would have loved to go on the road because you love to play, it's also work, so that cost you financially as well.  How are you personally dealing with this lengthy disruption? 
Obviously it was very upsetting to first hear that all of our tours were cancelled but I never took it very personally just because I realized that it was all out of our control. I will say that I personally am very blessed, especially during lockdown, because I don't pay rent (thanks mom!) and have very little monthly expenses. Given that, it has been really easy for me to just take everything day by day. There hasn't been any doubt thanks to all of our sweet fans that have been showing us so much love and support from the start of this whole mess. Also the Spotify recap thing was really comforting to see for Snarls and a really great reminder that we still have listeners from all around the world that are dying to see us play.
7. My favorite song on your band's album is "Burst", because, well, I'm also a bass player, and that should be obvious.  A sneaky second is "Concrete", I enjoy your work in that one.  What's your favorite song to play live and why? 
Thank you! "Concrete" was one of the first more intricate bass lines that I wrote so I appreciate that coming from a fellow player! I think my favorite song to play live is "Walk in the Woods" just because of how energetic we can get with it. My favorite thing about playing live shows is seeing everyone dance and let loose while they listen to us and that's very easy to do with that song.
8.  How do you intend to keep growing as a musician and writer?
I guess I just want to make sure that I continue to be as genuine to my emotions as possible. My biggest fear as a writer is making something just to stay relevant or to make money so pushing myself to make my music mean something in turn inspires me to discover everything that I possibly can about my own experience and emotions. I want to make sure what I express is real and not fabricated solely for the pleasure of others.
***
I strongly recommend the Snarls performance in Chicago at Audiotree.  This is it:
You can find Snarls all over the Internet, and listen to their debut album over on their Bandcamp page.  (Bandcamp Friday will resume in February, so if you are thinking of buying some Snarls merch, that would be a wonderful day to do so.)
Snarls is on Twitter, Facebook, and Instagram.
You can connect with Riley on Twitter or Instagram.