Carolyn Shulman is currently from Colorado. She had a lot to say, which I strongly encourage, so we'll skip the preamble and get around to amplifying her voice after the picture.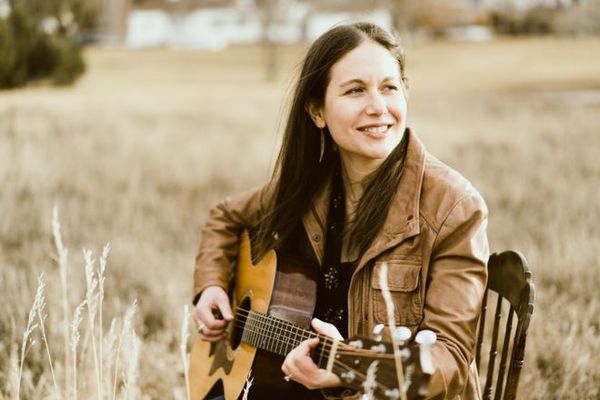 Photo by Jessie Matteson
1.  Let's hear the elevator pitch for your skill set and genre. 
I'm a folk / Americana singer-songwriter. I have played guitar since I was 9 years old and focus on acoustic guitar. I especially love intricate fingerpicking, but I also enjoy a good, old fashioned strummy song! I am also working on building my electric guitar skills. I would love to be able to improvise and play solid lead guitar, which would open up more possibilities for collaboration with other artists. I'm not there yet, but I'm having such a blast learning and working on developing that new skill set.  
When I perform live, I mostly play solo with my acoustic guitar. However, the album I released in May 2021, Grenadine & Kerosene, is a fully produced album with a band. It contains some songs that are solidly folk, some that are more folk-rock or Americana, and one that is straight up country.  
2.  I have gathered from your social media feeds that you are both culturally and religiously Jewish.  How does your faith and your culture influence the music you make? 
That's such a nice question! Being Jewish factors into my songwriting indirectly in terms of how I view the world and my role in it. As Jews, we are taught that we should always work to make the world a better place than we found it (this is the concept of tikkun olam - repairing the world). I think also being part of a group that is targeted by violent extremists and hate groups has given me a heightened sense of empathy for the struggles of other marginalized groups. All of these ideas find their way into my songs.  
Being Jewish has also factored into at least one of my songs very directly. My song "Across the Borderline" is about a refugee mother and her two daughters making the perilous journey through the desert to what they hope will be safety in America, only to be separated when they finally make it. Writing it, I was thinking about the similarities with the Exodus story, when Moses led the Jews out of slavery in Egypt, across the desert, to safety and freedom in the promised land.  
Then, fast forward to more modern times, the line in the chorus that says "every footstep is a prayer" was inspired by something that Rabbi Abraham Heschel said after marching in Selma with Dr. Martin Luther King, Jr. Some other rabbis (who had not gone to Selma) were giving him a hard time afterwards. Calling his level of religious observance into question, they asked him whether he prayed while he was in Alabama. He replied, "Yes. I prayed with my feet." I really love that idea of praying with our feet - that taking action, either for ourselves or to help others, can be just as holy and important as praying in a more traditional way. 
3.  What was the first album you can remember buying with your own money? 
Michael Jackson's Bad! I bought it on cassette tape at Peaches Music (which is sadly no more) in my hometown of Mobile, Alabama. That was how we rolled in the 80s!  
4.  Tell me about the last concert you saw. 
The last in-person concert I saw was Shawn Colvin, Marc Cohn, and Sara Watkins on December 1, 2021 at the beautiful Paramount Theater in Denver, Colorado. It was my first indoor, in-person show to attend since before the pandemic began. They were fantastic. Mary Chapin-Carpenter was supposed to be part of that tour, but she had to cancel due to I think a shoulder injury, and so Sara Watkins (Nickel Creek, Watkins Family Hour) subbed in, and she was an amazing addition to the show. They all sat onstage and played in the round, and it was a beautiful night. I cried when the music started, it had been so long. 
5.  You didn't get a chance to play a bunch of support shows for Grenadine & Kerosene, thanks to the pandemic. Are there plans of taking that album out on the road in the future? 
I hope so, pandemic allowing! I'm planning on booking some shows around Colorado for the spring and summer.  
6. You're a lawyer.  I've never met a lawyer who turned into an indie musician. Is there anything from your former career that you bring forward into this one?  
Definitely. I am sort of a geek about doing things by the book and treating my music like a business (because it is!). I copyright my songs. I set up an LLC through which I handle my music business. I know the value of seeking out the help of experts when I don't know how to do something myself or when I realize I don't know all of the subtleties. I would never sign a contract that could affect my rights to control or earn income from my music or my publishing without thoroughly reviewing it and would probably have another lawyer review it, too.  
I think in general, my background as a lawyer has taught me a lot about how the world works and has taught me that the devil is in the details, so to speak. 
7. If you could change anything about the music industry, what would it be?   
I would have the streaming platforms such as Spotify, Pandora, Apple Music, etc. compensate artists more fairly for the use of our creations. Right now, it takes approximately 5,000 Spotify streams in the United States to earn the same income we'd get from one album sale. That is insulting to artists and has resulted in a mind-boggling amount of profit for these streaming companies.  
Meanwhile, music has become devalued to the average listener. Maybe they don't know that we only receive about $0.003 per stream (on Spotify), or maybe they don't care because streaming is so convenient. I mean, I stream music, too! I love being able to do so. But, when I find something I enjoy, I go to iTunes or to that artist's website, and I purchase a digital download of the album in order to support that artist. Most people, however, aren't doing that. We have been conditioned in the last 15 years to expect instant, on-demand access to just about any song we want for very low cost. In the past, people had to buy an album if they wanted to listen to it on demand.  
8.  Making Grenadine & Kerosene was a lifelong dream for you.  Mission accomplished.  What do you do next? 
I am focusing right now on learning how to work within the world of sync licensing. Sync licensing is when a song gets licensed for use in television, movies, advertisements, and video games. As I explained in the previous question, music streaming platforms have sort of destroyed musicians' ability to earn much income from recorded music. However, sync licensing is a great way to do just that. Music supervisors need music in order to enhance the emotional impact of their shows, movies, ads, and games, and they are required to pay artists to use it. More shows and movies are being created and released than ever before right now (thanks to streaming services! ha!), and I believe indie musicians can really benefit by working on getting their songs into this arena.  
In addition to working on that, I am also looking forward to connecting with fans in person and growing my audience through live shows this year! Fingers crossed for a better year in terms of the pandemic. I really want to play out more in 2022. 
***********************
Grenadine & Kerosene is not only a brilliant album title full of imagery, it's also the name of the album's title track. It's very good.  You should listen to it. Feel free to listen to it for free on the streaming service of your choice, but if you like it, well, you should probably head on over to Carolyn's Bandcamp page and buy it.
In addition to her official website, you can connect with Carolyn Shulman on Facebook, Instagram, and YouTube.