If you are familiar with my musical tastes, you know that there is a very special place in my heart for Fountains Of Wayne.  I listen to them and I think "this is what pop music is supposed to sound like"... plenty of hooks, vocal harmonies, solid songwriting.  A bonus with them is many of their lyrics are clearly meant to be a little humorous.  Back in the day, I don't think I associated Columbus, Ohio's rock band Go Robot Go with Fountains Of Wayne, but I really should have.  I listen to a GRG song, and I think to myself "this is what pop music is supposed to sound like"... there are plenty of hooks, solid songwriting, and plenty of light lyrics.  Let's talk about this band for a moment.
Something unique about Go Robot Go is their use of the vocoder.  On many of their songs, the vocal harmonies are sung through the vocoder.  The opening song to their album Convertible, called "see you on the radio", is a great example... Neal Havener's lead vocals are clean, and the harmony vocals sound robotic.  Sometimes they would change it up and put the vocoder up front in the song.  Have a listen to "shy (ee ii)" from the same album, and notice that the distorted vocals are there right at the beginning.  Of course, the frequent use of a vocoder might seem like a gimmick if the band members weren't actually talented musicians and songwriters... but they are, so while the vocoder is heavily used, I never found it to be distracting.
Some two decades ago, GRG was gigging around the state fairly often, and they played a lot of shows in Dayton.  I can think of at least three different Dayton venues at the time where I certainly saw them play, and if I think hard enough, I might come up with some more.  
The last album of theirs that I am familiar with is Wait 3 Days... Then Attack!   The cover looks something like this.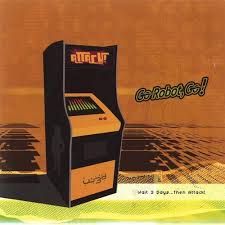 You might be thinking that the video game looks like it belongs in an arcade, and you'd be right.... they have a song on the album appropriately entitled "At The Arcade".   (The high score spells YOU.)  As an aside, it looks like there is some Arabic text on the video game, and I never noticed that before.  I wonder if Neal and the boys would be willing to tell us what that means.
Sadly, I kind of lost touch with this band in the early 2000s.  They released an album in 2007 called LIVE at the Zig Zag.  I am pretty sure that's a self-referential allusion to "marmalade 99".  There is also an album from 2014 called Good Vibes in Fashion Swimwear, and that one has a song about a certain intelligent cartoon lady in an orange sweater called "Ode to Velma in C Major".
I miss this band.  I've taken the opportunity recently to dip back into their catalog, and I am falling in love with them all over again.
Grab some beer, grab some snacks, and discover Go Robot, Go... warning though, these songs will get stuck in your head.