Does anyone remember 1996?  That was the year I graduated from high school.  Shortly after that, on 17th September to be specific, I wrote what you see in this image: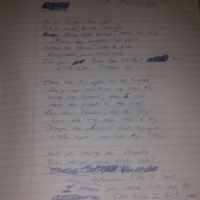 I always intended for most of the things I wrote to end up as song lyrics... but at the time, I didn't play any instruments.  
Fast forward to spring 2017.  I had just finished my first album, and I was getting it ready to release.  However, when you write songs, you can't stop writing songs.  I started looking through some of my older writing to find something that would make a little pop song... and I found this.
So, I had to change the name.  "Television Love Obsession" became "Little Light".  I had to update some of the references.  "Letters" became "email"... and, well, you can compare the current lyrics to the old ones by watching this video.
I wouldn't visit the studio with this song until 20th January 2019.  On that date, the lovely and talented Jeremy Raucci was kind enough to play the guitar for me, community drummer Brian Hoeflich knocked out all of the drums, and all tracking and mixing got knocked out in an eight hour session at Reel Love Recording Company.  (Shout out to Uncle Patrick.)  The end result is a slightly creepy pop song.  Please click the link above to listen and watch the lyric video if you haven't already.